90% of our workforce are volunteers! Much of our volunteer help comes from our clients. We are proud to be a community of friends and neighbors helping each other.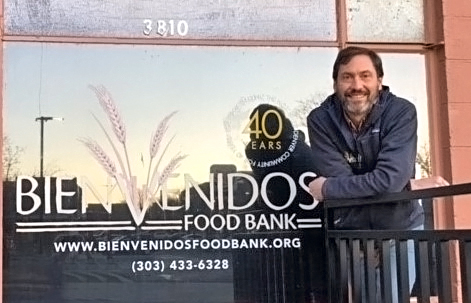 Greg Pratt, Executive Director
Greg has 25 years of leadership in the nonprofit sector. He first became involved with Bienvenidos Food Bank as a volunteer in 2007 and has also served as the organization's interim director, board member, and consultant. He has served as Executive Director since 2011. Pratt was selected for Hunger Free Colorado and Denver Foundation's "Full Lives, Full Pantries" think tank which helped create the Colorado Food Pantry Network and contributed to the publication of the Food Pantry Best Practices Handbook. He was also one of the first members of the Food Exchange Resource Network – a collaborative food pantry warehouse. Pratt was born in North Denver and lives in the neighborhood with his family today. He enjoys hiking, skiing, and anything else that gets him out to the mountains of Colorado.
Revelry Rebel, Program Assistant
Jimmy Riser, Driver
Kathleen Bohland, Board President
Owner – KB Communications
Todd Daily
President  – Incandescence Life Safety
Nicole Kazenske, Secretary
Coordinator – Denver Parks & Rec
Lexi MacArthur
Broker Associate – Red Door Properties at Compass
Mel Rael, Treasurer
Teacher – Denver Public Schools
Kerri Stroupe
Grants Administrator – Morris Animal Foundation
Rebecca Yaffe
Head of Creative Operations – Sunday
Scott Wolf
Director, Operational Services – Denver Public Schools
Thank you to the more than 30 organizations we partner with annually, especially Leevers Locavore, WeeCycle, BookGive, I Support the Girls (ISTG), the Denver Women's Health Clinic (Denver Health), Colorado Pet Pantry, and Generator Real Estate. These organizations' generosity allows us to give:
45,000 pounds of pet food
15,500 diapers and 15,000 wipes
More than 50 books monthly in English and Spanish
Highlands Lutheran Church: Volunteers from Highlands Lutheran work at our registration desk each week. The church is also a drop-off location for food donations.
Holy Family Catholic Church: Holy Family's generous congregants have donated food nearly every week for more than 30 years.